BUY AIRTIME:
Choose your network
BUY DATA BUNDLE:
Choose your network
Amazing features that makes MyVTU stand out from other vendors.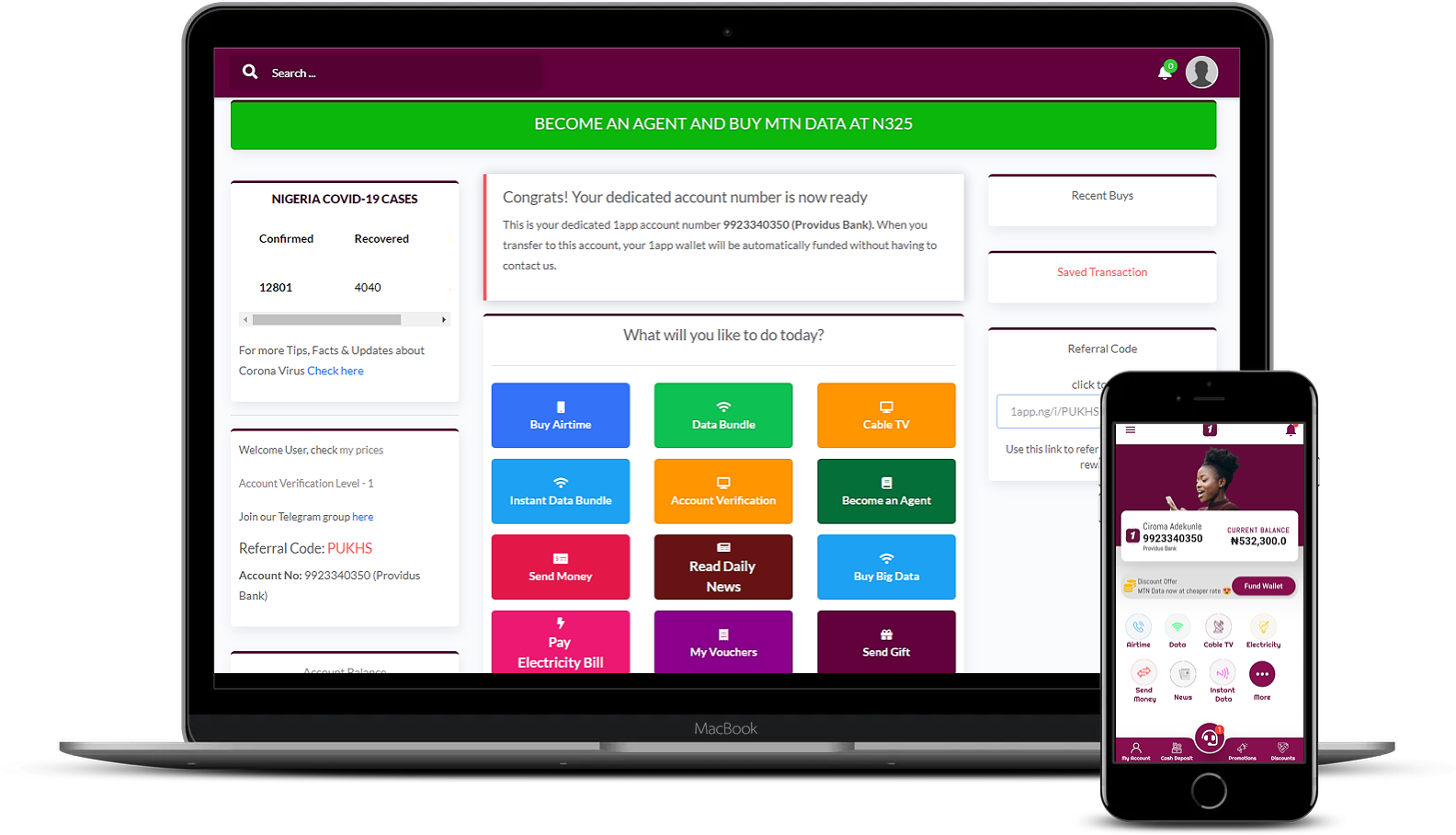 Secure
With us, your data/information and transactions are highly secure and protected by Comodo SSL certificate with end-to-end data encryption.
Fast and Reliable
MyVTU is simple, fast and easy to use on all mobile phones, desktops. We have you covered on all network providers such as MTN, AIRTEL, GLO, 9MOBILE.
Support Service
We are proud to provide you with the best & the fastest customer support. Get Support from our highly trained staff dedicated to help and guide you by phone, email, or chat with zero wait time on Chat support and less than 10 minutes response via emails.
Pacey
Business
This is really working. I recharge with ease and with profit. Thank you so much
Femi Oladimeji
Retired Cement Technology Consultant
Rapid response to reauests
Okoyeagu Uchenna
5 STAR very very fantastic I love 1 app. Keep it Up.
Abdulkareem Adewale Nuhu
Computer operator
Very excellent
Bamidele Oba
ICT Consultant
Wao, you never know what you use until you try Myvtu. The best of the best.
Salawu Semiu
Fashion designer
This is great 1app that allow people to buy card,data , etc @cheaper rate thank you
Onomiwoi Ruth
MyVTU APP is good and cheap, it can be used for business or self. I love it
Bukola Feyisayo Elijah
self employed
1app is just too much and very fast. have been using it now for the past 4months and am satisfied with the application. I give it to you guys
Nwome Chukwuma Jeremiah
Nursing
This is the best platform so far. No complain since I started using it
Kendra
Civil servant
I was surprised ,this really payed off..thanks 1app
Olubiyo Grace
Student
I love this it so fast. I just decided to try it out it turned out awesome. Thanks you so much
Daramola Idowu
This platform is Gud now for unemployment student like me u we be earning cool money
Our Clients
Contact Us
Your message has been sent. Thank you!